In January of 2022, I journeyed to NYC to see my first shows on Broadway. After a lifetime of dreaming, it was becoming a reality. I was schedule to see The Music Man starring Hugh Jackman and Sutton Foster and Company starring Katrina Lenk, Patti LuPone, and many others. I was full of apprehension…would I see these stars of screen and stage? Would the shows even happen because of the ever-evolving omicron wave of the pandemic? And…how would I react to finally seeing a show on Broadway?
Meredith Willson's The Music Man: January 13, 2022
The Music Man was my first show, scheduled for the day I arrived in New York.
I have never been a huge fan of the musical The Music Man, maybe because I've only seen film versions of it. Robert Preston, who originated Harold Hill on Broadway and in the film version, didn't do it for me. He was charming, but I think he was more cemented in my brain as Toddy from Victor/Victoria, and just felt too old, especially set up against Shirley Jones, who was too virginal and missish for me–not really surprising for 1962. (Fun fact: Apparently Robert Preston was 44 when filming The Music Man–almost 10 years younger than Hugh Jackman. The process of aging is SO DIFFERENT now.) In the 2003 film version, Kristin Chenoweth was a fine Marian Paroo, but Matthew Broderick… honestly, I found his Harold Hill to be creepy and charmless.
So going into this show I was excited for some fun dance numbers and the two stars and not much else.
All day I had been relatively calm; I was thrilled to be back in a bustling city, I felt alive and somehow myself again. It was a good day. Even if, for some reason, Hugh Jackman or Sutton Foster called out that night, I would still get to see my very first Broadway show.
After walking around Midtown and having a very nice dinner with my friend who lives in NYC, we walked over to the Winter Garden Theatre. My friend was not joining me for the musical, but she very kindly took some pictures of me before heading back to her apartment.
It was time for me to enter the theatre!
I showed my vaccine card and ID to the usher, then my tickets, and was seated almost immediately. None of this slow line nonsense I've experienced at local theatres where it takes for-freaking-ever to filter into your seats.
Everyone was masked and ushers walked up and down the aisles with signs to mask and they definitely made sure that everyone was wearing their mask properly. (My COVID travel anxieties were practically non-existent in NYC since people consistently wore their masks correctly and you had to show your vaccine card everywhere.)
Next to me, a woman was telling her daughter that she wasn't getting a Christmas present or birthday present this year. "My credit card is done after this trip."
When she mentioned having seen Company the night before, I totally butted my way in: "Oh my god was Patti there?" She was! I tried chatting more with her, but I wasn't in Nashville anymore and she did not engage. But that was okay because the show started PROMPTLY at 8:00 PM.
It's hard to describe the rest of the evening. It was surely one of the best experiences of my life.
It was magical.
And yes, BOTH Hugh Jackman and Sutton Foster were there!
Their pure, unadulterated talent blew the roof off the house. Hugh's Harold Hill was charming and debonair but also vulnerable. His charm was legit and never felt creepy or old. Sutton's Marian Paroo was smart, sharp, and sassy. They just worked. Together, they are a powerful pair. I felt like I was riding high the entire time from start to finish, and I loved every moment of it.
For the final dance number, I had tears in my eyes because they literally danced for 10 minutes. I had seen Sutton sing in person before, but I hadn't seen her dance. I didn't want it to end.
But then it did.
It was over.
Making my way back to my friend's apartment I was just totally overwhelmed. After 36 years of waiting, I had finally seen a Broadway show. And it was fantastic.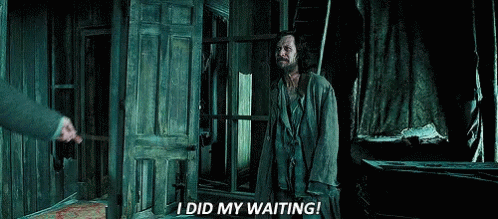 I felt like my life would never be the same or as perfect and wonderful as it was in that moment. I pretty much cried with joy the whole way back to my friend's apartment, arriving on her doorstep with raccoon eyes (thanks, mascara).
I remembered how much my mom had loved The Music Man. How perfect was it then that this was my first show. A show that my mom would have loved. My mom, who without a doubt, started this whole obsession.
It felt like a perfect full-circle moment: I had been waiting my whole life to see this show.
Stephen Sondheim's, Company: January 15, 2022
While writing this weeks later, I am still riding high from seeing The Music Man. So two days after seeing The Music Man, it was strange to head into my second Broadway show. This time, Stephen Sondheim's Company, starring the grande dame of my heart, Patti LuPone.
After a very cold day in New York, my friend once again walked with me to the theater and snapped my pic in front of The Bernard B. Jacobs Theatre. I was nervous. After seeing BOTH Hugh and Sutton, would I actually get to see Patti too? It seemed impossible. I couldn't be that lucky.
Bernard B. Jacobs is a smaller theatre than the Winter Garden and my seats were a lot closer to the stage (though cheaper than my MM tickets, haha) and the whole tone of the set and audience was different. It felt older and more mature. (Which makes sense given the the two shows I was seeing!)
My friend texted me that she had heard someone asking an usher outside if Patti LuPone would be on and the person said she was.
I didn't want to hope but as the lights went down, an announcement was made: "There is no photography and please make sure your cell phones were off….or else." I knew. I knew that voice.
That voice belonged to none other than La LuPone. In that moment, I was glad to be wearing a mask because my face was doing some real stupid shit. 
I was about to see Patti LuPone perform live.
For once in my life, I was squeezed in between two people that were bigger than I am, so it was a physically uncomfortable viewing experience, but it didn't matter. The moment Patti came onto the stage, the entire theater drew in a breath. There was a group of gays (<3) behind me who literally audibly gasped. She commanded the whole goddamn stage, filling the whole room with her charisma.
Besides being in awe of experiencing a long-and much-loved voice, IN PERSON, it was a remarkable show. First of all, I owe Sondheim an apology for all of my previous ambivalence about his shows. I recognized his genius and we can not overstate his contribution to American theatre, but I just didn't like his work. To be fair, I think the Sondheim shows we see the most often are not his best, especially the ones geared to younger audiences; like how many bad productions of Into the Woods can you deal with?
Company, often regarded as one of Sondheim's master works, however, is one of his that I actually knew most of the words to. I was familiar with the general gist of the plot, but had never paid much attention to the show. In short, it tells the non-linear story of a single 30-something who is questioning their life choices as a single person in a group of marrieds.
First, it was hilarious, something I didn't fully appreciate from simply hearing the songs. Second, I do not know what gave Sondheim the right to personally attack me with this musical. This staging, departing from every previous incarnation of the show, is gender swapped. The lead, formerly Robert, is now Bobbie (played by Katrina Lenk). As a woman in her mid-30s, like Bobbie, also single and not sure how she feels about it, the musical felt so real: tagging along as the ever-present third, fifth, or seventh wheel, not wanting to be alone, but also not really wanting to deal with lame bumble dates, or any dating apps for that matter, feeling like you're racing to GET IT DONE whatever the hell IT is, how even though from the outside looking in couples have tons of problems of their own and coupledom seems like a hot mess, yet it's something that is just regarded as normal and desired, but is it something I desire, I don't even know, how am I supposed to know!?
…Wait, am I talking about me or Bobbie? What a gut punch.
I am fascinated with gender swapping narratives. So much can change based on such a simple choice to change the gender of the main character. This show originally from 1970, it would 100% not hit the same if Bobbie were still Robert in the 2020s. In addition to changing Robert to Bobbie, the engaged Amy becomes a gay male named Jamie–also a perfect choice that made the musical feel way more authentic to the current era. This show would not have hit the right notes (heh) if it had been a straight male lead surrounded by all hetero couples. The success of the gender swap has made me ponder what other musicals would do well with a similar treatment. There are a few that, like Company, I think need it. I'll save that for another post.
Obviously, I fell in love with this show. This staging was one of the last things he worked on before he died, and he saw this cast perform not long before his death. One of his greatest legacies is that he continued to support and mentor aspiring artists and playwrights, and how he gracefully let his work live through the kinds of changes made in later interpretations–like the swap from Robert to Bobbie and Amy to Jamie.
After seeing a staging of Company, I finally understand his genius. And I also think Sondheim is not for the young–Company would have hit me completely differently had I seen it in its entirety at 22 or 23; honestly I doubt I'd have been into it at all. Seeing this at 36 was, at times, a little too on the nose. I am sorry I didn't see it and appreciate it sooner, but each season in its moment, eh?
The only thing that would have made this musical better for me is the casting of the lead. Katrina Lenk's voice was passable, and her acting serviceable, but the whole musical builds up to this one song, where Bobbie just has a MOMENT. It's THE song. If you know any songs from Company, it's likely this one. "Being Alive"has long been a favorite of mine. It has frequently been sung by Sondheim-ites such as Mandy Patinkin, Raul Esparza, Bernadette Peters, and, you guessed it, Patti Ann LuPone (of course, my fav version). It is one of THE songs of the Sondheim repertoire. Lenk's rendition was… fine. Technically, nothing was incorrect with her performance…she hit the notes and sang the song, but compared to the rest of the stellar cast, it was weak sauce, lacking in emotion, a disappointing culmination where there should have been a powerful punch of a finale. It was a bummer end of what was otherwise a fantastic show.
The rest of the cast was amazing–I especially look forward to seeing what Matt Doyle, who played Jaime, will do. Patti LuPone is a goddamn goddess and national treasure, and it was literally a dream come true.
I managed to hold it together after this show. It wasn't the same surge of adrenaline that I had post-Music Man. Rather, it was a reflective kind of post-show joy, more of a diffuse warm glow that kept me warm on the very cold journey to my lodgings.
I can't wait to do it all over again
I still can't quite believe that I had this AMAZING experience, where I FINALLY SAW SOME SHOWS ON BROADWAY. I am still pinching myself that I got to see all three of the stars I wanted to see. Unsurprisingly, I am addicted and I can't wait to go back for more. Beyond the shows, I also had a brilliant time exploring the city, eating delicious food, and seeing some world-class museums. More on my general New York-y experience in my next post.
**You're Going to See a Broadway Show.
This line is from one of my favorite musicals, The Drowsy Chaperone, in the opening monologue by the Man In Chair. If you got it, congratulations, you get 10 points. Do with them what you will.